For Temporary, Contract, Part-Time and Casual Workers
Share your latest availability with all your agencies, employers & business hirers for more job offers
Give updatedge a try
Available from the Apple App Store and Google Play
Free to use with any contacts of your choice 
Create your network of contacts for job offers
Update all your contacts with your latest availability
Enjoy no more emails, texts and calls wanting to know when you're available
Is updatedge right for you?
For more & better work, with greater choice, then use Updatedge 
Chat directly with your contacts
For all supply teachers and teaching assistants 
Why use updatedge?
To easily keep all your contacts aware of your latest availability.
If people know you are available you'll get more job offers
What does it cost?
The updatedge mobile app is free 
Your contacts can all see your availability instantly, send you offers and chat with you for free too
Lets step through the basics of the mobile app
Get started
Create an account by adding your email address
Add or select contacts to share with
Select days your are available or working unavailable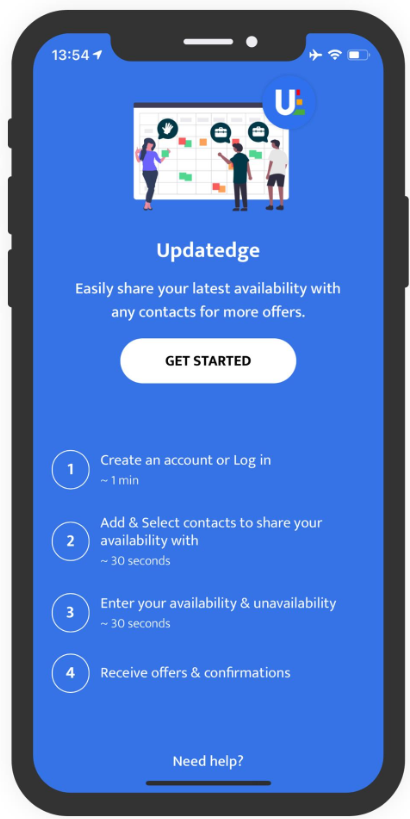 Get More Job Offers
Receive more offers from your contacts…
The larger your network the more offers you will get
Keeping your schedule accurate gives your contacts confidence you are available
See What Users Are Saying
Supply teacher
updatedge saves me loads of time, I'm no longer getting endless text messages, emails and calls asking if I'm available.
Every time I get a request I add that person to my contacts list and they instantly get my latest availability.
I'm getting more supply teaching assignments from my agencies and directly from schools too.
4myschools education recruitment consultant
Dealing with hundreds of availability updates every week was part of my job and was very time consuming.
With updatedge we get availability updates instantly and accurately with hardly any chasing.
All the updates go directly into our systems automatically; so no more time spent keying changes manually.
We now have the advantage of the best availability information without any delay and our clients can also choose the best available supply teachers themselves.
Top Tip: Share Often To Get Most Benefit
Using updatedge first thing every day reassures your contacts about your availability, improves your reputation and gets you more job offers.
Last Updated
Every time you share your availability all your contacts can see when you last updated
Share Often
The more often you share the greater the level of accuracy you maintain and the greater the confidence your contacts have to offer you opportunities.
Confidence Score
When you've just shared, your availability confidence score is at 100%, and your contacts are more likely to send you offers. You keep you score high by regularly clicking the share icon even if nothing has changed.
Give updatedge a try
Available from the Apple App Store and Google Play
Free to use with any contacts of your choice